Recruits respond to departure of O-line coach A.J. Ricker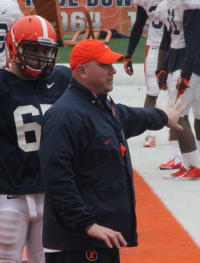 News broke Wednesday afternoon that Illinois offensive line coach
A.J. Ricker
had accepted the same position at Missouri, and it was later confirmed by Illini head coach Tim Beckman.
A 2003 Missouri graduate, Ricker spent one season at Illinois. He coached for two years at Western Michigan under current Illini offensive coordinator Bill Cubit, where he served as offensive line coach and run game coordinator.
Losing Ricker this close to the opening of camp is a blow to the Illini program, but Beckman said it was an opportunity for Ricker to return to the school where he played center from 2000-2003, including 47 consecutive starts.
"He had a chance to return to his alma mater," Beckman said. "We preach about family here, and A.J. is returning to his family that he has at Missouri."
Under Ricker, the Illinois offensive line had a solid season in 2013 and they return four starters this fall. Beckman will reportedly focus his efforts on candidates from outside the program to replace Ricker.
Ricker was also successful on the recruiting trail, locking down 2015 commitments from tackles Gabe Megginson and Adam Solomon, and he was instrumental in landing guard Zeke Martin and JUCO center Zach Heath.
Recruits respond to Ricker's departure
"My commitment is still the same. I'm gonna be an Illini through this whole thing. I wish coach Ricker the best of luck at Missouri."
Coach Ricker's leaving will not effect my commitment to the university. I'm an Illini before anything and it will always be that way.- Zeke Martin (@BigZmartin)
July 9, 2014
Gabe Megginson, offensive tackle, Springfield (Ill.) Sacred-Heart Griffin.
"I wish Coach Ricker the best of luck at Mizzou. I totally understand his reasoning, and this does not affect my commitment"
Adam Solomon, offensive tackle, Indianapolis (Ind.) Bishop Chatard
"It's something I will have to take in. I'm not sure what to make of it yet. I didn't see it coming, for sure. I hope they can get someone just as good to replace him. He's a great coach"
Zach Heath, center, American River Community College