In-state defender holds Illini offer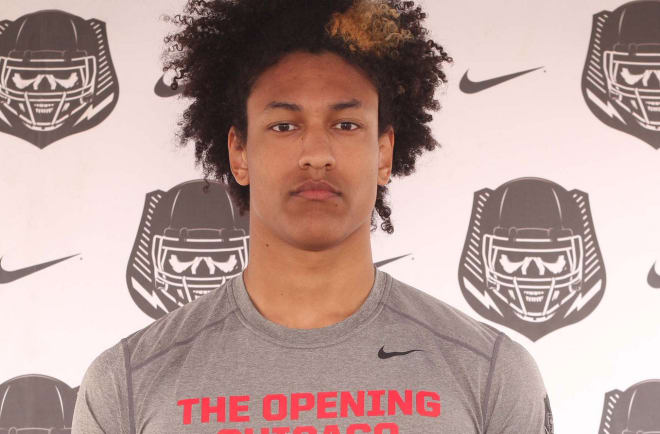 Bolingbrook (Ill.) junior defensive lineman Izayah Green-May is fifteen offers into the recruiting process -- including one from Illinois.
"Recruiting is going well, I think seeing the different schools and facilities and the comparison between them not only with what they have to offer but more of what kind of mood and vibe I get from the atmosphere is interesting," Green-May said.
The 6-foot-6, 205-pound Green-May has taken several college visits and has more planned.
"I have visited the University of Illinois, Central Michigan, Western Michigan, Illinois State, Northern Illinois, and I plan on visiting Iowa State and Wisconsin in March," Green-May said.
Green-May, a 3-star prospect according to Rivals.com, has been drawing interest from college programs since he was a freshman.
He has long arms and displays athleticism of a much smaller athlete, so it's no wonder that the Illini among others are after him on the recruiting trail.
"I definitely liked Illinois, he said. "I admired their new sort of motto which is to recruit more in-state."
On his visit to Illinois, Green-May got to spend some time getting to know the Illini coaches.
"At Illinois I love the enthusiasm that they have as a staff," Green-May said. "They bring that, but also the sincerity I like, that they have about making the university a successful program."
Other offers are in from Cincinnati, Iowa State, Illinois, Indiana, Syracuse, Minnesota, Virginia, Wyoming, and several others.
Green-May's recruiting trips have been access to all kinds of new information for the junior.
"On the trips so far I have enjoyed just comparing all the schools. The big thing for me has been just seeing what they have to offer," Green-May said.
As for his preparation for his senior season, the Raiders are hitting the weight room hard and getting ready for another year of staunch 8A competition in Illinois.
"Right now the team is working hard and the chemistry is flowing," Green-May said.
Subscribe now to OrangeandBlueNews.com and get a 30-day FREE trial as part of Illini spring football promotion. Deal expires on March 15.