Illini recruiting to new defensive scheme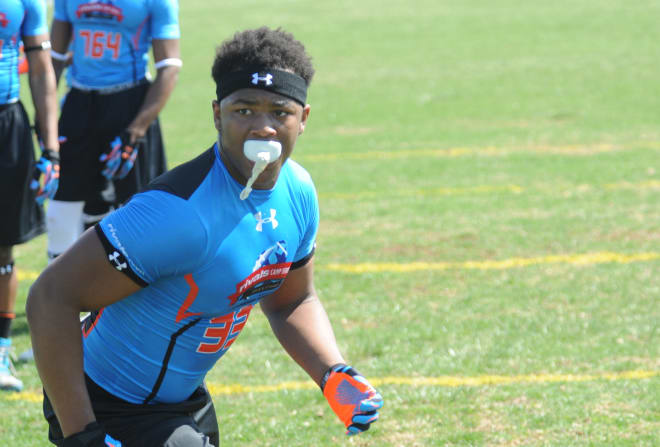 CHAMPAIGN – A new plan on defense called for a change in recruiting priorities for Illinois football coach Bill Cubit.
After first going a different direction by promoting Mike Phair from co-coordinator to defensive coordinator, Cubit started a process that led to the Illini making a change in scheme. Of course, that meant recruiting different players to fill different roles.
"What we're trying to do is get more athletic guys who can run and are long-armed guys,'' Cubit said. "If you're a linebacker, I want to know what your wingspan is. I think they're a couple guys in this class who are going to play early for us.''
Cubit makes his money by knowing the X's and O's on offense. That's no secret. But if the Illini want to make some gains this fall in the first of two years under contract with Cubit as head coach, the biggest jump needs to come on defense.
Assuredly, the Illini struggled to move the ball and score last season with a mediocre offensive line and limited options at wide receiver, tight end and running back. Often times, quarterback Wes Lunt had little room for error.
But Illinois struggled defensively since the last two years under former coach Ron Zook, when Vic Koenning built Illinois into a top 10 defense nationally. In the three seasons under former coach Tim Beckman, the defense took a major slide under coordinator Tim Banks. Last season, the defense had some life when Phair showed up to take some of the responsibility off Banks' shoulders.
Change is easily a big part of Cubit's plans, because the Illini tore up the defensive playbook from a year ago.
Under Phair, the Illini plan on implementing a 4-3 scheme instead of the 4-2-5 run under Banks. Thus, there's no need for the hybrid positions such as the Leo linebacker (a combination of defensive end and linebacker) and the Star (a linebacker and safety hybrid).
Why?
Phair's background comes in the 4-3, and the coaching staff felt the 4-3 is a better fit in this league.
"We just talked schematically about what I'm used to running and what I'm most comfortable with, and that's what (Cubit) wanted also,'' Phair said. "He wanted more press stuff, more man, longer corners, and that's what I was comfortable with. So that's the discussion that we had."
While the spread has a foothold in the Big Ten, it's still more of a traditional conference that lines up and plays old-school football, Phair said.
"This is as close to as pro football as it gets as far as conferences with the long receivers, and you have to be able to stop the run and get to the quarterback,'' Phair said. "There are some spread teams, but not as much as other conferences."
Obviously, a change in defensive scheme forced a change in recruiting priorities for a program already facing other challenges on the recruiting front. While the Illini were busy trying to find fresh commitments, they were also forced to keep the players on board from recruiting victories months earlier.
Then Cubit and Phair threw another challenge into the mix. The recruiting board faced an overhaul, because the coaching staff recruited to a new scheme.
"You don't want to keep recruiting guys who don't fit in the system,'' Cubit said. "That doesn't make any sense. So when the defensive staff got in here, we asked, 'What are you looking for? Tell me what you like.'
"There's going to be a little bit more man coverage, there's going to be a little more cover 3 and cover 2, so you want length."
First, that means changes for players already on the roster. James Crawford and Justice Williams, two guys who were slotted at the Star position last season, were shifted to outside linebacker. Dawuane Smoot and Carroll Phillips will play defense end with their hand on the ground after contributing at Leo last fall.
That left Illini recruiters looking for different kinds of players.
"We don't have the Leo anymore, so we are truly a four-man front, a 4-3 defense," Phair said. "We did have to change a little bit where we're adding another defensive end and another linebacker. We are going to have to rush four when teams throw the ball."
There's also a change in the kind of player the Illini need at linebacker, where the Illini will go with a middle linebacker, a strong-side linebacker and a weak-side linebacker.
"There is a Will, a Mike, and a Sam,'' said Phair. "That creates a little bit different look. And we have a nickel also. There are some guys who will convert and just adjust. It will be simple as far as getting guys lined. We have been talking as a staff how the guys we currently have fit in those positions. It won't be as big a deal as people make of it."
Two incoming freshmen play key roles in the Illini's plans this fall, especially with the shift in scheme coupled with the loss of seven of the top eight tacklers from a year ago.

The decision of linebacker T.J. Neal to transfer left the Illini desperately seeking help at the linebacker.Incoming freshman Dele' Harding is a 6-foot-1, 230-pounder from Elkton, Md., who was ranked as the No. 20 recruit from Maryland overall. After first committing to Michigan, Harding is a player who can make an immediate impact with his size.
"He's a really good player,'' Cubit said. "He's a thick-bodied guy. He weighed in at 238 when he came in here for a visit. We know we had some depth issues there.''
Defensive end Izon Pulley ranked of Olney, Md., immediately behind Harding on the Rivals list in Maryland. The 6-4, 250-pounder is a defensive end who could play immediately at defensive end before possibly growing into a defensive tackle.
"I think he has really good explosion, very good range,'' Cubit said. "We'll start him at defensive end because that's the thing we need right now. We're not as experienced there as we are inside. He's a guy who can probably get himself up to 275. We will let his body grow to where it needs to go, and if he gets bigger he can move inside."
John Supinie is a columnist for Orangeandbluenews.com. During the day, he's an Audi Brand Specialist at Green Audi in Springfield. Call or text him at 217-377-1977 if you're looking for an Audi, Volkswagen, Toyota or preowned car. Ask for the Illini deal.