Illini in the mix for 3-star safety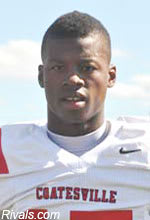 Stocker (6-foot-2, 180-pound) has a plethora of college offers, but ones currently mentioned the most are Pittsburgh, Syracuse, Illinois and Rutgers. He has visited Rutgers unofficially and has officials tentatively scheduled for Pitt (January 16) and Syracuse (December 5).
"I really want to get up there (to Illinois) for a visit, but my team is still playing so right now it's kind of hard to do that," Stocker said. "Coach Tim Banks is doing the recruiting, and I do have an offer from them."
Others on Stocker's long list of offers include Cincinnati, Duke, Maryland, Purdue, Boston College, Wisconsin, West Virginia, Virginia, and several others. Stocker says location won't necessarily be a big factor in his final decision.
"I don't have to stay out east," he said. "I want to go to a place with good tradition and has great educational values. But the school has to fit me. If it does, then I will commit to that school."
Coatesville is approximately 39 miles west of Philadelphia. The Red Raiders put their perfect 13-0 record on the line vs. Pennsbury (13-1) this Friday in the PIAA Class AAAA state quarterfinals.
Ranked a 3-star recruit and the No. 22 safety in the nation, Stocker also lines up at wide receiver for Coatesville. He has over 400 yards receiving and has posted 56 solo tackles on the 2014 season.
"I have three interceptions, several pass breakups, and seven touchdowns receiving," Stocker said.