Illini icon Dee Brown hopeful for UI return as coach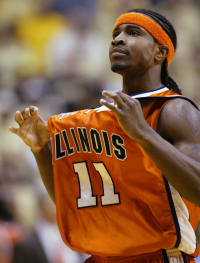 CHAMPAIGN - Dee Brown is 30 years old.
That makes you stop and think for a moment doesn't it? This upcoming season is the 10-year anniversary of the best season (37-2 and national runner-up finish) in Illini history. And on a team with future NBA All-Star Deron Williams and first-round draft pick Luther Head, Brown was the icon.
Eight years after Brown left Illinois - long years as Illinois has made just four NCAA Tournaments A.D. (After Dee) - fans still talk about Brown's braids (he shaved them off), the headband (he still wears one), the high socks (he wears leggings now), the mouth guard ("I needed my teeth; I liked my smile.") and the jersey poppin'.
If Brown has it his way, it might not be long before he brings that smile and swagger back to Champaign.
Brown isn't old for a basketball player by any means. But he is at the age where he's thinking about life after basketball.
His hopeful future? More basketball, only as a coach.
"I got started on making that push by just watching a lot of game film, watching a lot of players, studying a lot of coaches I played for.," Brown said. "I played for a lot of great coaches professionally and at the collegiate level. I'm just trying to take it all in, man, and prepare myself for life after basketball. I am basketball. That's all I do. That's all I know. That's what I love to do. Hopefully when I decide to hang them up, there's opportunities for me."
Brown already has a dream destination, a familiar one.
"My goal is to get back down to Champaign," Brown said. "That's where my heart is. That's what I love. I would love to get started there, but you never know what could happen in the future."
Illinois already has reached out. Brown said Illinois athletic director Mike Thomas offered Brown a position within the athletic department - though Brown wouldn't divulge details about what the job would entail - this spring.
"I had this summer to decide on it," Brown said, "but I just wanted to continue to play basketball to see where my career could go. This year I wasn't ready to hang up my jersey. Maybe I was going to stop playing, maybe I wasn't. But the University of Illinois and Mr. Thomas down there really reached out to me for a position down there. I really want to thank the University of Illinois for that."
Brown had stints in the NBA with the Jazz (2006-07), Wizards (2008) and Suns (2008-09) but has spent most of his post-Illini career outside the U.S., playing for teams from Turkey, Israel, Italy, China, Puerto Rico and, most recently, Latvia. The money is good and so is the competitive outlet.
But a Big Ten assistant gig - and the six-figure salary - likely would be enough to bring Brown back to the States permanently.
Illinois doesn't have an opening. Groce's staff has remained intact through two seasons, but more Big Ten and NCAA Tournament wins would bring a spotlight to his assistants, especially top aide Dustin Ford.
Fans would like to see a former Illini on staff, especially one with weight in talent-rich Chicago. Two Illini idols immediately come to mind: UI all-time leading scorer Deon Thomas, who this spring took an assistant position at Illinois-Chicago, and Brown.
Groce has reached out to Brown frequently, but Brown said they have not talked specifically about a future position on the staff.
"I like what coach is doing down there," Brown said. "I like him a lot. I've talked to him a couple times in this past month. I'm very supportive of him and what he has going on. One thing about me, man, that's where my heart is. I bleed orange and blue."
Brown - one of only two McDonald's All-Americans to play at Illinois since 2000 (the other was Jereme Richmond) - doesn't understand why Chicago's premier talents, like Jabari Parker, Cliff Alexander and Jahlil Okafor, continue to leave the state.
"[Groce] has a tough job," Brown said. "Obviously, a lot of these great players, top players out of the state of Illinois are going elsewhere, which kind of rubs me the wrong way. It hurts me a lot because I love the University of Illinois and I want all the best to go there. We are an elite program. It's tough for him right now, but like I said, I have confidence in him and I support whatever he do."
Brown thinks his passion can help Groce land the next big fish from Chicago's talent pool. You know, the next Dee Brown.
"I just think my influence and what I've done and what I've benefited from the city and how I was raised, I definitely could make an impact in recruiting within this region because I got so much to sell on Illinois," Brown said. "I went there. I know the ins and outs and what I believe and what we believe in down there. It's a no-brainer for me, man, coming from Chicago."
What can Brown do for Groce and the Illini? It sounds like they're an opening and a phone call away from finding out.