Illini host 2015 defensive tackle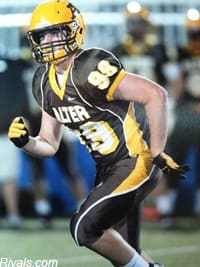 Illinois
was first to offer Kettering (Ohio) Archbishop Alter class of 2015 defensive tackle
Kraig Howe
. The Illini extended the offer last August then hosted him for an unofficial visit for the Wisconsin game during the 2013 season.
Howe was back on campus in Champaign this past weekend to watch the Illini go through a spring practice. The Illini staff talks 'family environment' to all prospective recruits, and it's something Howe says stands out about Illinois.
"We came in on Friday night and hung out with the coaches, the player, and the recruits," Howe said. "One thing that really stood out to me was Coach Beckman and the other coaches preaching 'family'. That excites me; I really like that about Illinois and what they are doing here.
"Tony Durkin was my host," Howe said. "I stayed at his house and crashed on the couch. It was a good experience to hang out with the team and walk around campus a little bit.
Durkin was up early on Saturday with breakfast and time in the film room. Howe tagged along, and also had the opportunity to sit in on position meetings with defensive line coach Greg Colby and his unit.
"When we were in the meeting room with Coach Colby, I really liked his philosophy and how he coaches, and I kind of saw that during practice too," Howe said. "He's not one to put you down - he's more of a build-you-up kind of guy."
Checking in at 6-foot-3, 253 pounds, Howe projects as either defensive tackle or strong-side defense end.
"I could see myself anywhere on the D-line," Howe said. "Hopefully I'm not done growing yet. Talking with Coach Colby, he said my growth and development over the next couple years will be a big part of it. But he told me 'I see you as a defensive tackle'.
Rivals.com ranks Howe a 3-star prospect and the No. 33 defensive tackle in the nation. He also ranks as the No. 31 player in the state of Ohio in his class. Tight ends coach Alex Golesh is his primary recruiter at Illinois.
Howe has no specific timetable for a commitment, but he is starting to figure out which schools will top his list when decision time nears.
"I hold seven offers right now," Howe said. "The schools that are really on me had are Illinois, Pittsburgh, Northwestern, Boston College, Iowa State, and Miami (Ohio)."
Click
Here
to view this Link.