Illini hope wins boost ticket sales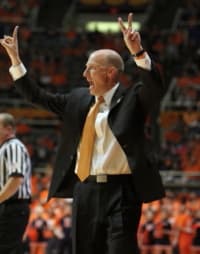 CHAMPAIGN - Win, and they will come … well, eventually.
A hot start for Illinois basketball under first-year coach John Groce hasn't exactly produced a boon in ticket sales. Despite an 11-0 record and No. 10 national ranking, Illinois is averaging 13,241 in listed attendance through six home games. Through six home games last season, Illinois averaged 14,583.
Some Illini fans have expressed frustration over the numbers, harkening back to the heyday of the sellout streak from 2004 to 2008. But these things take time.
The current numbers are mostly the reaction to last season's results. Simply, after the Illini lost 12 of its last 14 last year - resulting in the program's third missed NCAA Tournament in five seasons and ultimately Bruce Weber's dismissal - less fans found season tickets worth their money or time. It'll take time to sell them once again.
"I would tell you from my experience it usually takes a year," said Jason Heggemeyer, Illinois assistant athletic director for ticketing. "The majority of our tickets are purchased before the season starts. Right now, we're playing a little bit of catch up and people are ready to get back on board. Right now we're trying to get them on board. But when we'll really see the fruits of this is coming into next year."
The highest attendance of the season remains the 14,683 listed for the season opener against Colgate. But the figures (and actual bodies in the Hall) appear to have risen since an 11,640 listed attendance for the second game against St. Francis. After coming home from the Maui Invitational with a championship, the Illini drew a listed 12,565 and 12,224 for the Gardner-Webb and Georgia Tech games, respectively.
A national ranking helped boost attendance to 14,191 for the Western Carolina game. Numbers remained steady at 14,144 for the win over Norfolk State on Tuesday night, though it appeared that there were more butts in the previously empty seats near the top of C-section.
Heggemeyer said excitement is growing.
"Any time you're selling something and you have a product that people are excited about, it makes coming to work a lot easier," Heggemeyer said. "People are ready to jump on board and they're responding really well to Coach Groce and the way the team's playing. A lot of positive energy is coming our way right now. We're looking forward to it continuing."
Numbers will improve for the Big Ten games. As of Thursday afternoon, about 500 tickets remained for the Jan. 5 Big Ten home opener against Ohio State and about 1,500 tickets remained for the Feb. 7 game against Indiana, currently the No. 1 team in the country.
Illinois is trying to boost attendance by offering special deals, including a Big Ten mini-pack available online only at www.fightingillini.com. The package includes three Big Ten home games in January (Minnesota on Jan. 9, Northwestern on Jan. 17 and Michigan on Jan. 27) for the discounted price of $49.
"We're hoping the energy there can really push us over the hump," Heggemeyer said. "Those are some big matchups (Michigan is currently ranked No. 3 in the AP Poll, while Minnesota is No. 13) that we need to get some victories in. We're trying to get as many people there as possible to enjoy the season."
But it's not just the nosebleeds Illinois needs to fill. More gray from the A section seats is appearing during television broadcasts, and it's not from the patrons' hair. More Illini fans have left their purchased seats vacant, drawing fellow fans' ire in the process.
Illinois is trying to find a way to fill those seats as well.
"We're examining that right now," Heggemeyer said. "We have a number of options that are on the table. … Next year, we're looking into what we call a ticket transfer where electronically if you're a season-ticket holder you'll be able to log onto our website specify what game and what seats of yours that you'd like to transfer to somebody else. Essentially what it does is e-mail that other person a PDF of the ticket and they can use it for that game."
Heggemeyer said the administration also has discussed devising an incentive program that would reward Illini fans for their attendance. The UI could monitor scan rates of each seat's bar code and reward ticket owners based on their attendance.
"Hopefully by incentivizing attendance and providing a rewards program to recognize people that attend games, hopefully we can encourage them if they're on the fence," Heggemeyer said. "Hopefully we can get them over the hump and they'll want to come in just so they can get that barcode scanned."
Illinois is rebuilding its brand, much like it did after Lou Henson retired in 1996. During Henson's final season, Illinois averaged 14,792. The next year, Lon Kruger's first as coach, the Illini averaged 13,913 despite a fourth-place finish. Attendance dropped to 13,398 the next year despite breaking a 13-year Big Ten title drought. Attendance fell again during the following season's 14-18 struggle but rebounded in Kruger's final year (14,577) before skyrocketing during Bill Self's back-to-back Big Ten title years (15,469 in 2001 and 16,177 in 2002).
The sellout streak started early during the 2004-05 season. The Illini rode the momentum of the 2005 NCAA Tournament runner-up finish all the way - through a 16-19 season in 2007-08 - until the start of the 2008-09 season.
Attendance fell the next two seasons, to 15,499 in 2008-09 to 14,870 in 2009-10, before rising to 15,851 and falling again to 14,986 last season.
For Illinois to rebound back to anywhere near its sellout streak heyday, Illinois needs time - and wins.
"We need to get it back to where it's about getting inside the building rather than where you're seats are," Heggemeyer said. "If we can get back to that, we're going to be in a good spot. But to do that, we have to keep doing our job on the court, and we got to keep putting out a product that people want to purchase."
Tougher sell
Heggemeyer's office likely won't experience quite as much excitement when it sends out season-ticket renewals for football following a 2-10 campaign during Tim Beckman's first year at the helm. Attendance already dropped from 49,548 in 2011 to 45,564 this fall.
"We do the same thing we're going to do every year, whether we had a great season or a bad season," Heggemeyer said. "We take a look at what happens. We take a look at what interest we're going to have the next year. We have to be very careful in setting our prices. Right now, we're in the process of looking at pricing for next year. If there's any opportunities, maybe we can lower the prices in certain areas or maybe raise it in certain areas that are in high demand from year to year. All those things are on the table right now.
"When you talk about pricing, we're like every other business. We have to find the appropriate price for our product. But at the same time we can't lower it too much because we need to bring in revenue as well. We're in this game of trying to get people to attend the games but we're also trying to make sure that we bring in the revenue that's needed to fund the program."
Like Groce and the basketball program, Beckman and the football program will need to win consistently to boost attendance. But Heggemeyer said his staff can do their part to help as well.
"It's not all about wins and losses (with football)," Heggemeyer said. "It's a big part of it, but a lot of people's decisions about football is about the gameday experience. So we're constantly looking at how we can improve the gameday experience because that's what we're in control of."
"Hopefully by incentivizing attendance and providing a rewards program to recognize people that attend games hopefully we can encourage them if they're on the fence … hopefully we can get them over the hump and they'll want to come in just so they can get that barcode scanned."
Jeremy Werner is the co-host and Illinois reporter for the "Tay and J Show," which airs weekdays 3-6 p.m. on ESPN Radio 93.5, 95.3 in Champaign-Urbana and streams online at www.espncu.com. You can contact him at jeremy@espncu.com or follow him on Twitter @WernerESPNCU