Goodwin getting more looks since post-season run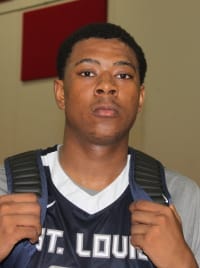 Goodwin led Althoff all the way to the IHSA Class 3A championship game in Peoria, showing a great feel for the game. His combination of strength, tenacity, and nifty footwork in the paint definitely made Goodwin a crowd favorite.
He also opened the eyes of some college scouts.
"Illinois has been talking to my high school coach, and Northwestern also since the high school tournament," Goodwin said. "Illinois and Northwestern both said they might offer."
Purdue and SLU are two others schools that have been involved with Goodwin. He plans to line up some visits this summer.
At 6-foot-3, Goodwin is the type of undersized player who will generate much debate. His skill set is that of a forward right now, but he still has room to grow over the next couple of years.
This past weekend, OrangeandBlueNews.com talked to Gerald Leonard, Goodwin's AAU coach with the 16U St. Louis Eagles, and we got the lowdown on Goodwin's development and recruitment.
"Jordan has been a lot of recruiting attention," Leonard said . "He's been working really hard and doing a lot of things to work on his agility, foot speed, and his jump shot. He can really score the ball, and handle the ball pretty well. We just have to work on his feet and his shooting."
Illinois assistant coach Jamall Walker played basketball at St. Louis University, and he has strong ties to the area. Walker heads up the recruitment of Goodwin.
"Jamall is a great guy," Leonard said. "He's very much in on all of our kids in the Eagles program. Illinois has been showing a lot of interest in Jordan."
Goodwin spearheaded Althoff's post season run, where they eventually lost to Westchester (Ill.) St. Joseph's 67-63 in the title game. Goodwin was dazzling, with 23 points, 12 rebounds, and 4 assists.
"It was a great experience," Goodwin said. "Our whole team played great, and I was playing off of my teammates. We got better and better over the whole season."
Since the run to Peoria, Goodwin said recruiting has taken off for him.
"It picked up a lot," he said. "I went from getting about one letter a week, to getting at least four or five."