Illini loading up on O, but still need more D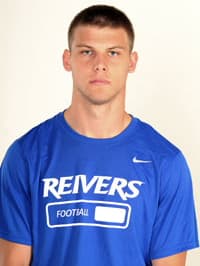 CHAMPAIGN - Tim Beckman's staff finally has an on-the-field tangible to sell to recruits: Illinois offensive coordinator Bill Cubit.
"We're selling Bill Cubit like crazy," Illinois recruiting coordinator Alex Golesh said of Cubit, who led an offensive resurgence for the Illini last season (29.7 points per game, up from 16.7 per game in 2012). "I don't think anyone sold him short on what he's done. He's come in and created a swagger and a confidence. I can confidently say he's the best in the country at what he does. Kids see it. Kids feel it. Kids feel it off of our offensive kids. They see offensive identity and a sense of swagger."
Recruits seem to be buying it. Following three commitments last week, Illinois (4-8 overall last season, 1-7 Big Ten) now has six commitments in the Class of 2015 - all on offense.
The Illinois offense, led by a proven coordinator, is loading up with enough Big Ten talent and Big Ten depth to be one of the Big Ten's best.
Champaign Centennial senior quarterback Jimmy Fitzgerald adds more depth to an already deep (and young) position. Right now, the UI depth chart at the sport's most important position includes senior Reilly O'Toole, redshirt sophomore Wes Lunt, sophomore Aaron Bailey and true freshman Chayce Crouch, who likely will redshirt this fall.
Golesh and company stocked the receiver cupboard for their passes during the winter, adding two tall, athletic JUCO targets (Geronimo Allison and Tyrin Stone-Davis) and two talented in-state prospects (Mikey Dudek and Malik Turner).
They filled a void Sunday night by adding Iowa Western Community College tight end Andrew Davis, who visited Illinois last week and also has an offer from Texas.. He has the potential to make an immediate impact and make up for the looming losses of seniors Jon Davis and Matt LaCosse.
D.C. Gonzaga's Reggie Corbin also committed this week, giving Beckman two commitments from running backs - DeKalb's Dre Brown committed earlier this spring - a position that won't have much depth or youth entering this fall. If the Illini are able to nab USC transfer Ty Isaac, the position looks even more promising.
Most importantly, the Illini have added two no-doubt BCS talents to an undermanned offensive line: Jacksonville's Gabe Megginson and Indianapolis Bishop Chatard product Adam Solomon, who committed on Friday. Megginson held dozens of offers, including premium offers to Big Ten rivals Michigan State, Ohio State, Penn State and Wisconsin. Solomon sported offers from programs like Cincinnati, Indiana, Kentucky, Purdue and Syracuse. Neither should be counted on to make an impact as true freshmen. Offensive linemen usually need a year or two of pound-gaining and strength-training before being Big-Ten-ready.
Yet with three returning starters (Simon Cvijanovic, Michael Heitz and Alex Hill) graduating after this season, another (Ted Karras) set to graduate after the 2015 season and the jury out on a class of second-year players (including Joseph Spencer, Christian DiLauro and Austin Schmidt), Illinois needs an influx of about five talented, the-sooner-they're-ready-the-better offensive linemen. It's June and they already have two with a powerful pair of Megginson and Solomon.
Cubit's offense looks like it is on pace to be well-equipped for the future.
Patience for defense?
Yet the optimism of an offense stocking up on talent is equaled by the distrust of a deficient defense. After all, it was the defense that kept a bowl-worthy offense from playing past November.
The defense should improve from last season - it has to right? - due to development from a promising group of juniors (V'Angelo Bentley, Mason Monheim, Kenny Nelson, Teko Powell) and sophomores (Jarrod Clements, Caleb Day, Darius Mosely, T.J. Neal and Dawuane Smoot), as well as the added depth from junior-college prospects Joe Fotu, Carroll Phillips and Jihad Ward.
But Illinois hasn't added any defensive commits in the Class of 2015. There's a reason for that, according to Golesh.
"There just so happens to be a lot more offensively in the state this year than there has been, more so than defensively," Golesh said. "Our needs are much more offensive this year than defensive."
The Illini signed nine defenders in its 18-man class in 2014: four defensive linemen, three linebackers and two defensive backs. But they still need more defensive playmakers, particularly on the defensive line and at safety. Illinois staff needs to add more impactful playmakers - the coaches know wins sell those players - but it has done well at addressing needs in its last two classes.
"We're going to sign more heavy on offense this year," Golesh said. "And honestly, we've been a little bit slower and a little bit more patient with offering guys on defensive side of the ball. We've been a little bit more picky in that there aren't as many names [on defense] in Illini nation, so it's been a little further away with some of these guys. Those commitments come later. Those commitments come after those guys are able to come up in the summer and see it. Or some can't afford to come up this summer, so it happens more in December and January when you can official visit these guys, and they get a chance to come up and see it. Honestly, with a bunch of wins behind our name, that's going to help those kids make that decision as it comes."
Organizing evaluation
The spring evaluation period, which extended from April 15 to May 31 this year, is a grinder for football assistants. NCAA rules prohibit head coaches from off-campus recruiting activities. But while the bosses are forced to sit on their hands at home, assistants
"I was out 25 days," Golesh said. "And It's been a heck of a week here. But it is good to see my wife and my [three-year-old] daughter and try to get back to normal here for a little bit."
The traveling of the evaluation period is taxing. But so is organizing it all.