Bossi's Best: Most interesting recruiting battles heading into fall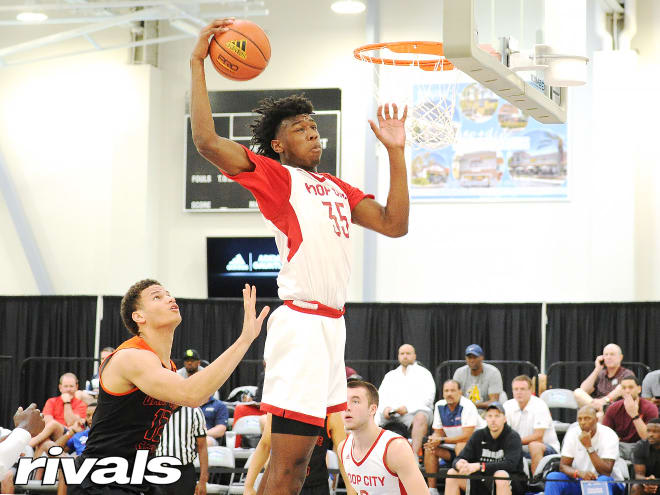 What makes his recruitment so interesting? What stands out to me is that Carey's recruitment is starting to head down a path that we didn't think it would. He's been down to five for a while, but headed into the summer Duke looked to be a pretty clear favorite, and in my eyes that's no longer the case.

Contender analysis: In addition to Duke, Carey's final five includes Kentucky, Miami, Michigan State and North Carolina. While Duke is by no means out of it and remains near the top, it looks the Spartans and Wildcats are really starting to upset the apple cart. Bottom line: Carey's recruitment seems to be changing and as he gets ready for official visits it wouldn't be a surprise if the narrative on where he could be leaning continues to change.

*****
What makes his recruitment so interesting? Like most of the rest of the recruiting industry, I can't help but to see the battle for Wiseman as one between Kentucky and Memphis, and between those two there is no shortage of storylines. The 7-footer looks fully committed to using all of his visits and he doesn't appear to be in any kind of hurry to end things.

Contender analysis: Kentucky and Memphis (or Memphis and Kentucky, if you prefer) still have to be considered the favorites and I'll still be surprised if somebody passes them up. But, he's going to hit Kansas' Late Night event for a second year in a row, Vanderbilt is based in his hometown of Nashville and Florida State, North Carolina, Arizona and Texas are all still hanging in there, just in case. At the least, Wiseman is fun to watch, and it has been a fun to watch fan bases debate his recruitment, so I'm not mad about more time to cover it.

*****
What makes his recruitment so interesting? When Robinson-Earl first emerged as a prospect, nobody ever thought he would give consideration to any school other than Kansas. Here we are, and the five-star now has official visits set with the Jayhawks and his other four finalists: Arizona, North Carolina, Notre Dame and Villanova. Can any of them lure him away from home (for college)? That's the big question that we should get an answer to in the next few months.

Contender analysis: Robinson-Earl's ties to Kansas from growing up nearby and his father playing there have been well documented. Roy Williams and North Carolina really turned things up over the summer, Arizona used a strong unofficial visit last winter to jump start things, Notre Dame has been as persistent as anybody and Villanova's past few years have caught his attention. If I'm handicapping it, though, I'd guess that Kansas and North Carolina have the upper hand as visits begin.

*****
What makes his recruitment so interesting? What I find most interesting with Baker's recruitment is that he hasn't committed yet. I really thought there was a good chance that he would be off the board by now, and I thought that it would be to UCLA if it was anywhere.

Contender analysis: Now, I can't say for sure that this is a two-horse race, but it is sure starting to look like one. Baker has been to UCLA and wants to get into film, so he really likes the setting there. But, he's also an Austin native, and this week he will visit hometown Texas which I see as the other most likely destination. It wouldn't be a surprise if a decision isn't too far away.

*****
What makes his recruitment so interesting? First of all, athletes like Stanley tend to captivate their audience because you don't want to miss something ridiculous. Second of all, one school appears to be a heavy favorite, yet he hasn't pulled the trigger on a commitment and he's at least planning to go through the visit process.

Contender analysis: USC would appear to be the favorite here, and if Stanley doesn't pick the Trojans then it would be an even bigger upset for him to leave Pac-12 country. But, Kansas is hanging in there, and to a lesser extent so is Texas, along with Oregon, UCLA and Arizona.

*****
What makes his recruitment so interesting? Nnaji just took one of the more impressive unofficial visit sprees, seeing Notre Dame, Ohio State, Indiana, Purdue and Illinois in a five-day span. He also saw Kansas State and Creighton earlier in the month and is of course familiar with hometown Minnesota. Also interesting is that after he burst onto the scene during the spring he proved to have staying power during the summer.

Contender analysis: Nnaji is all over the board, and it's hard to nail him down to any one school. Another program that has been getting a lot of mention with him is Kansas. Nnaji didn't make it to see the Jayhawks during his August visits, but it wouldn't be a surprise to see them get a visit. His summer teammate, Matthew Hurt, is a major Kansas target. Really, though, we need to see who he sets up official visits with before we get too deep into analyzing his recruitment.

*****
What makes his recruitment so interesting? This time last year, most figured that Liddell's recruitment would pretty much be a contest between Missouri and Illinois - and possibly Kansas State. Those teams are certainly heavily involved, but Liddell's recruitment hasn't ended up quite as simple as expected, as Ohio State and Wisconsin are also in the mix.

Contender analysis: Liddell begins his official visits this weekend with a trip to Ohio State, and though he's not said anything publicly to tip his hand one way or another, it's actually the Buckeyes who many feel may be inching ahead behind the scenes. If – and I say if – that is the case, they have a chance to set the bar before Liddell visits his other finalists. Illinois and Mizzou are closest and are plugged into his hometown of Belleville with staff relationships, while Kansas State has recruited him as hard as anybody. Wisconsin appears to be the school most on the outside looking in.

*****
What makes his recruitment so interesting? Timme is interesting for so many reasons. For starters he is fun to watch play. He's skilled, he plays with fire, he talks trash. It's just hard not to enjoy watching him. On top of that, he's running as mysterious a recruitment as anybody in the country.

Contender analysis: The only thing we can say for sure is that Timme is down to a final 10 of Alabama, Arizona, Gonzaga, Illinois, Louisville, Michigan State, Oklahoma, Purdue, Texas A&M, and Texas Tech. Until he starts setting some official visits or eliminates some teams, even educated guessing is tough with his recruitment.

*****
What makes his recruitment so interesting? Like Timme above, Tshiebwe is simply fun to watch play. He's got one of the most incredible motors I've ever seen and he eats rebounds for breakfast. For the longest time he looked like a West Virginia lock and others seemed afraid to recruit him. That's changed now, and for that reason it's become very interesting.

Contender analysis: Make no mistake, West Virginia is still quite strong and it willl enter the visit process as the team to beat. But Baylor, Illinois and Kentucky are all going to get their cracks at him over the next month or so. In particular, I'd watch out for John Calipari and Kentucky, but nobody saw Baylor or Illinois coming, so you never know.

*****
What makes his recruitment so interesting? Stay with me here, because there's nothing really head-scratching about Hall. Seriously, the supply of players who only list finalists that appear to fit their style of play and that have recruited them hard is in shorter supply each year. There's no fluff to make Hall's list look good, and he's doing his homework in a sensible manner.

Contender analysis: Hall is down to Michigan State, Oklahoma, Oregon, Purdue and Texas, and of those five only Texas is remotely close to being a surprise inclusion. As he prepares to start his visits many feel that if there is a leader, it is Purdue, which may hold a slight lead. Oregon and Oklahoma have been strong all along, but Michigan State would be the one that could really make some noise down the stretch.