2015 combo guard plans visit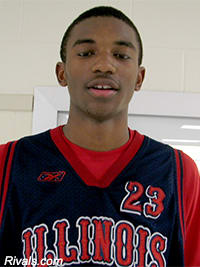 Aaron Jordan
from Plainfield (Ill.) East High School didn't have the summer he was anticipating. The 6-foot-4, 170-pound combo guard went down with an ankle injury in June that limited his game. He has spent countless hours treating the injury in hopes of returning to normal form.
"The injury was really a bummer," Jordan said. "The doctor told me it was a contusion and when I went to get it treated for therapy, they said it could be a high ankle sprain. So I basically went through July icing my foot after every game or when I got home from a workout."
Although Jordan says his ankle is not 100 percent yet, he claims it is feeling "much better." It has been noticed too, as Jordan showed much improved explosion and cutting abilities to go along with his precise perimeter shooting.
Unfortunately, the injury didn't show improvement until the AAU season was almost over. However, even battling through a painful and irritating injury, Jordan was pleased with how the season unfolded.
"The AAU season was exciting for my team and I," Jordan said. "We added new players for July and we did pretty well for not having played together for that long. I can't wait until next year when we have more chemistry. It will be awesome."
"As for myself, the season was good even though I was playing on one foot. I thought I played hard and contributed well on the offensive end."
Illinois
assistant coach Dustin Ford has been the main recruiter on Jordan. Over the past several months they have continued to build a solid relationship.
"We talk a couple times a week," Jordan said. "He is a good guy and I love the fact that he saw me play so many times when I was in Louisville."
Coach Groce made the decision to offer the three-star prospect in mid-July. Coach Ford had been giving Jordan hints that an offer may come at some point, but it was still a shock when it became reality.
"That was overwhelming," Jordan said about the Illinois offer. "Coach Ford kept telling me to hang in there and once he sees me play, good things will happen. So when he called that night I was very excited. It feels good to get an offer from the state you lived in for so long."
In other words, it appears Illinois will be it in for the long run with Jordan.
"For me it's too soon to throw out any favorites, but Illinois is definitely near the top," Jordan said.
Besides Illinois, Jordan holds offers from Wisconsin, Creighton, Valparaiso, Illinois State, UIC, Fairfield, San Jose State, and Hampton. That offer list will likely continue to grow as many other programs have been showing him strong interest.
Enter promo code
Illinois30
and get a 30-day free trial to Orange and Blue News. Click
HERE
to get started
"I've been hearing quite a bit from Purdue, Kansas, Northwestern, DePaul, Tennessee, NIU, VCU, and West Virginia," Jordan said.
With AAU season complete and the high school season still several months away, Jordan will now take the time to visit a couple of the schools he will be considering.
"I have a lot of visits coming up," Jordan said. "I will be going to Wisconsin on the 17th and 18th. I am going to be visiting Illinois State on Saturday. I'll be going to Creighton at the end of the month or beginning of September. I'm going to Illinois the 11th and 12th of August. And I also plan on going to San Jose sometime in September."
Jordan hopes to make a decision by the end of his junior year.